YG Team
Minneapolis Yoga Instructors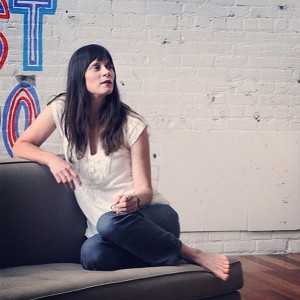 LAUREL VAN MATRE E-RYT 500 (Owner/Founder of YOGA GARDEN) Laurel is a Minneapolis, MN based Yogi, Designer and Entrepreneur.  She has been practicing yoga for over 20 years and teaching for almost two decades.  Her yoga studio, YOGA Garden, is considered one of the leading studios in Minneapolis.  She teaches her students to use Design Thinking concepts on their mats and how to use that experience as a metaphor for their creative pursuits.  She is a teacher to many successful C-Level executives, artists and entrepreneurs who are curious, creative and understand yoga as a way to increase creative confidence through movement.In addition to YOGA Garden she is the owner/operator of LVMGardens Design. She holds a BFA from the University of Wisconsin, has lived in London and travelled extensively through Europe and Asia.Visit her blog at: www.laurelvanmatre.blogspot.com.

Book a Speaking Engagement at: www.theyogiandtheentrepreneur.com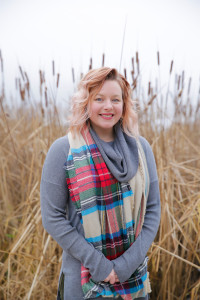 STEPHANIE LOES – Discovered her passion for yoga as a solution to the wears and tears on her body as a result of more than a decade as a hair stylist. Since, yoga has centered her in becoming and being a mother. Stephanie's primary focus and motivation is to empower women and their families in pregnancy, labor, and parenthood through the strength and balance yoga provides. Stephanie strives to create an environment that is wholly inclusive to all levels, abilities, and perspectives. Stephanie is guided by the principles of Anusara Yoga.  She has also completed Blooma's Level 1 Prenatal Teacher Training with Sarah Longacre and Stacy Seebart.For more info please contact Stephanie at  Stephanie.loes@gmail.com www.yogamamampls.com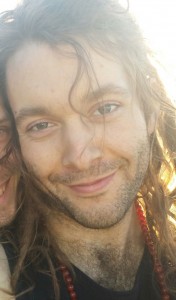 PETE CAIRNS – RYT-230 from Radiant Life Yoga – Pete has been practicing Asana for the past 2 and a half years. Pete's practice of Being Here Now began around the age of 19, in beginning to develop a meditative focus within Yoga Nidra sessions. Discovering physical fitness to be a moving meditation, Pete took the next step and began focusing his energy directly into the practice of yoga. Pete's classes combine an emphasis on alignment, a balance of yin and yan, as well as engaging self-reflection. Pete has a dedicated daily practice, and continues education through weekly classes, workshops, and further trainings.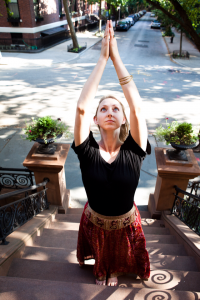 CALLEY BLISS – Calley's yoga journey started innocently in 2002 at her university's rec. center in Denton, TX. Yoga would become her most powerful and versatile implement in the "life toolbox," helping to deal with bouts of anxiety, depression, stress, and enabling her to stop being reliant on medications and shots for chronic allergies. Calley believes "The science of the mind" is often an emotional journey by way of a physical practice, but always a practical tool to combat all of life's challenges and find happiness in everyday life. Calley has lived, practiced, and studied across the US, with gratitude for the guidance of her teachers: Siri Cavanna (New York City- Anusara), Christina Reich (New York City- Ashtanga), Gretchen Arguedas (Boise, ID- Ashtanga), and Laurel Van Matre (Minneapolis, MN- Alignment). Her thirteen-year practice guides her teaching at her Minneapolis yoga home, YOGA Garden MPLS. As a musician, she has traveled the US, UK, and the Caribbean, and returning to her hometown of the Twin Cities in 2013 to start Entertainment Jill, a boutique business offering voice over and music for creative digital production.Learn more about Entertainment Jill!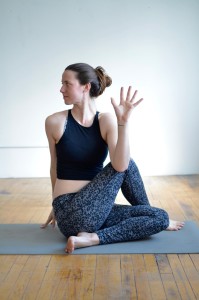 PAIGE GARRETT – Paige first discovered yoga at her local gym during her senior year of high school. She began practicing to combat the tightness and injuries that had accumulated from playing lacrosse, field hockey, and running. After a few months of regular practice, she ventured out to a yoga studio in her hometown of San Diego, CA, and fell in love with its community. In addition to vinyasa, hatha and restorative classes, they offered free yoga philosophy discussions, and there Paige learned about the philosophical system that defines the practice of yoga. Now, this philosophy weaves its way into the classes she teaches, and her daily life. While attending college in Northfield, Minnesota, she graduated from Heartwork Studio's 200 hour teacher training program in May of 2014. Paige's yoga classes emphasize playfulness, non violence, acceptance, and self care. She is beyond excited to have the privilege of sharing this wonderful practice with others!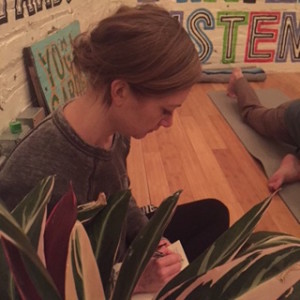 ELISSA MEYER – RYT 200 YOGA Garden Minneapolis (Dec. 2016), LifePower Yoga (June 2015).
Elissa's connection to yoga began in the mid '80s, with a small children's book featuring kids in shapes of trees, cobras, mountains, and more (plus awesome knee socks and gym shorts) – she remembers hours spent admiring the pictures in the book and mirroring the pages on her living room floor. Off-and-on in the many years since then, Elissa dabbled further into her practice, always finding benefit and joy there, but other priorities intervened. In early 2015, after a purposeful career transition and seeking to restore her energy and passion, Elissa dived into Yoga Teacher Training. She is committed to ongoing growth and training as a teacher and student, and in the fall of 2016 completed a 200-hour study with Laurel Van Matre at YOGA Garden. Elissa's teaching style emphasizes calm and gentle acceptance, while challenging the mind and body and relishing the yoga bliss. In addition to yoga, Elissa fills time working as a Program Attorney for Minnesota Continuing Legal Education—and she loves finding ways to combine these two endeavors.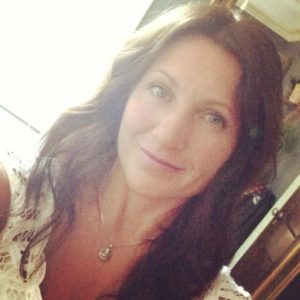 MELISSA SCHOELLER – Melissa Joy has completed several trainings and workshops, while continuing to learn and grow: 200hr Vinyasa Training at Core Power; 500hr Sadhana Yoga at SchoolYoga Institute Guatemala; Yin Yoga Training with Jill Carey; 300hr Advanced Vinyasa, Ayurveda, Meditation and Tantric Yoga Philosophy with Lorin Roche, Coby Kozlowski, Katie Brauer and Danny Argeutty; and Yoga Nidra with Jennifer Reis (Oct 2017). She is trained in Barre, Cycling, and Personal Training. Forever a student of yoga and of life, MJ's mission is to inspire and elevate others to live their best life and to fully inhabit, enjoy, and heal their bodies through asana, fitness, and meditation.

You can find MJ riding her bike, spending time with family and friends, meandering the farmer's market, thrift store hunting, and planning her next yoga and fitness retreat. She loves all things mountainous, sunshiny, tree filled, and beachy!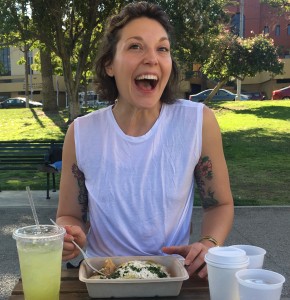 DIANA ROSS-GOTTA – Diana is drawn to the healing, therapeutic qualities of yoga and especially those of the restorative practice. She seeks to create safe spaces for people to let go, transform and find peace. She takes inspiration from a variety of sources — spirituality, neuroscience, psychology, the subtle body, poetry, nature, music — and integrates these into her classes.Diana became acquainted with yoga at a young age through her mother offering classes in the living room of her childhood home. Yoga was always present for Diana during her childhood through early adulthood, however it was not until 2010 that Diana developed a more consistent practice as a means to balance the stressors of everyday and forge a deeper connection with the Self.

In December 2014, Diana received her initial certification through the 200-hour Yoga Alliance certified program at Area Yoga in Brooklyn Heights. She has received additional 50-hour certification from Laughing Lotus NYC in Restorative Yoga.